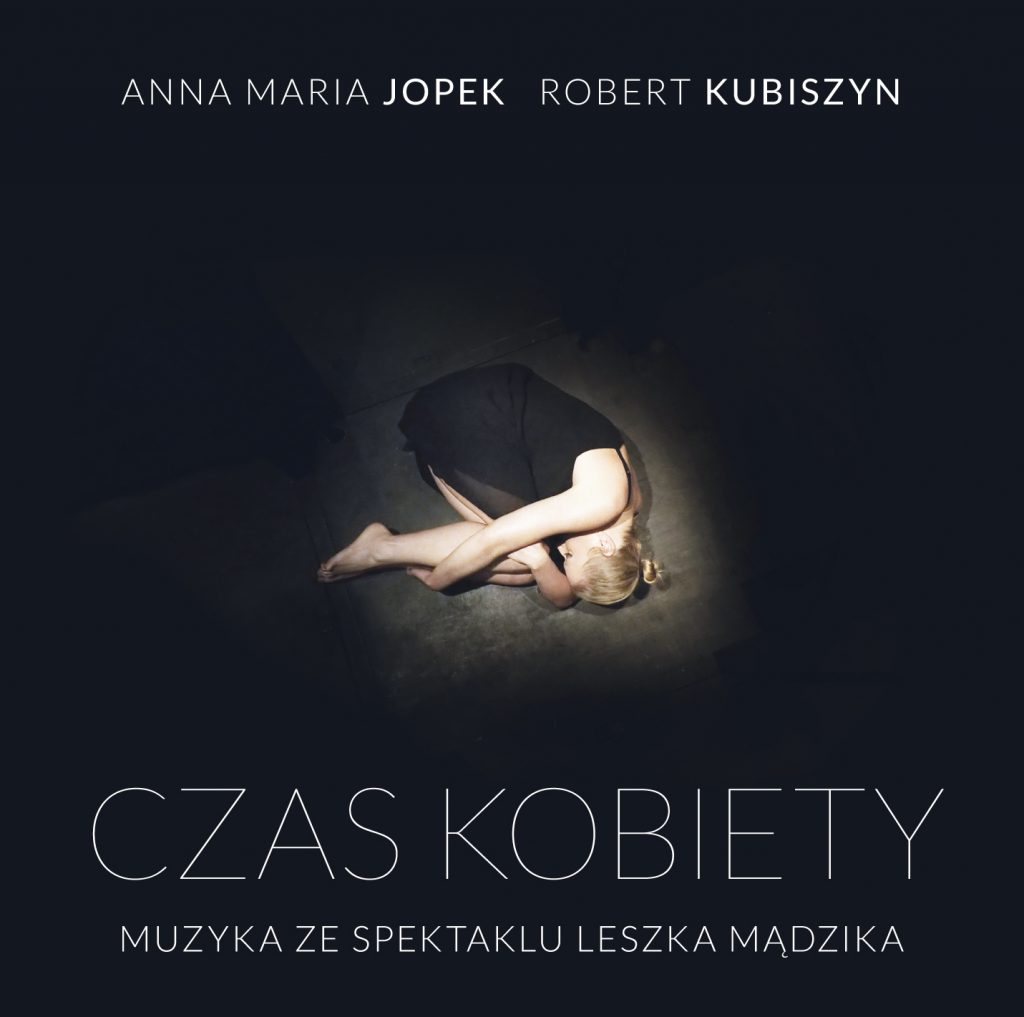 Concept and inspiration – Leszek Mądzik
All vocal parts and their arrangement – Anna Maria Jopek
Arrangement, all instrumental parts, loops, programming – Robert Kubiszyn
Anna Maria Jopek & Robert Kubiszyn – Czas Kobiety / A Woman's Time (Score to Leszek Mądzik's theatrical project)
The music from "Czas kobiety" is an etude for great spaces and the simplest, most elementary structures, such as voice accompanied by bass. The album was composed and entirely recorded by Anna Maria Jopek, who created her own language of vocalises here, and Robert Kubiszyn, a bassist and her close collaborator of many years.
"Throughout Mądzik's oeuvre, woman is a phenomenon that unites the two driving forces of theatre–the erotic and the sacred–but most predominately one of the keys to understanding the phenomenon of the human fate." (Jaroslaw Cymerman for Teatr Stary in Lublin)
"I long for love. For meeting a woman. In my theatre, I touch the pure affection for a woman, which provides one with a sense of security." (Leszek Mądzik)
"Working with Leszek, I had placed boundless trust in him. For him, I had learned again how to be born and how to sing my finiteness. My voice, a pure stream of sound, had become my body, and my body had become my voice." (AMJ)
1. Początek | Beginning (mus. Robert Kubiszyn)
2. Narodzenie | Birth (mus. Robert Kubiszyn)
3. Błogostan | Bliss (mus. Anna Maria Jopek)
4. Karuzela Czasu | Carousel of Time (mus. Robert Kubiszyn)
5. Zakochanie | Falling in Love (mus. Anna Maria Jopek)
6. Obrót czasu | Turning of Time(mus. Robert Kubiszyn)
7. Rdza | Rust (mus. Robert Kubiszyn)
8. Pojednanie | Reconciliation (mus. Anna Maria Jopek)
9. Epilog | Epilogue (trad.): You who have suffered in our stead / Be merciful unto me / People, my people
Recording and editing – Robert Kubiszyn / Dream Catcher Studio
Solo vocal and double-bass parts recorded by Tadeusz Mieczkowski (Polish Radio S4 in Warsaw, 31 August 2017)
Mixed by Tadeusz Mieczkowski (Polish Radio S4 in Warsaw, 1 September 2017)
Mastered by Klementyna Walczyna / Master Sound
Music production – Anna Maria Jopek, Robert Kubiszyn
Producer – Karolina Rozwód / Teatr Stary in Lublin
Photography – Dorota Awiorko
Graphic design – Kasia Mrożewska
English translation – Bartosz Wójcik
Management – Joanna Drozda and Tomasz Gajewski
Legal assistance – Agata Bajno
The stage version of A Woman's Timewas created as part of Leszek Mądzik's 70thbirthday and 45thartistic jubilee celebrations.