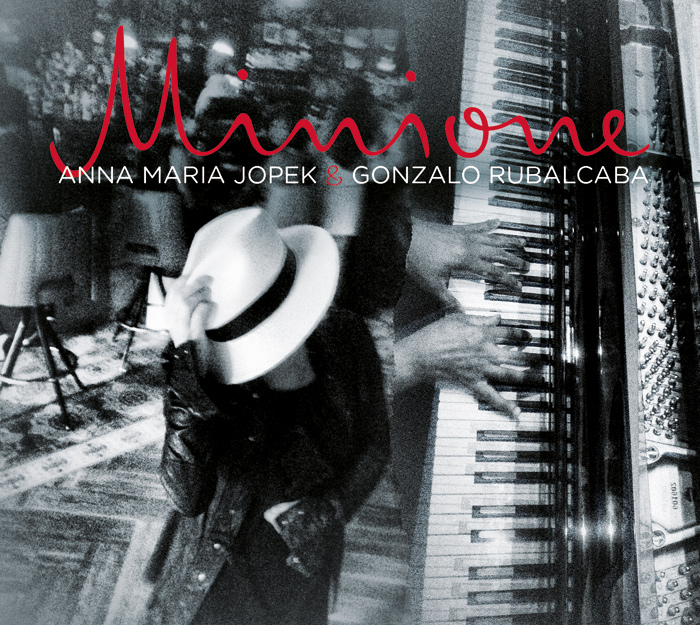 After her musical journeys deep into the Japanese ('Haiku') and Lusitanian ('Sobremesa') sounds, this time AMJ sings in Polish with the Cubans. The album 'Minione', which was launched on St Valentine's Day, brings back to life the most charming pre-war Polish tangos.
AMJ sings with one of the greatest improvising pianist of our times, fantastic Gonzalo Rubalcaba and his jazz trio. Among hundreds of old tangos and boleros, both leading musicians chose the songs that inspired them most, such as: ['Rebeca'] or ['Your lips lie']. Those pieces are a bridge between the past, the world of the thirties of the past century and present vocal music. They also merge various cultures: Polish, Cuban, Jewish, Argentinian and American.
'When I work with artists who come from musical backgrounds different to mine, I'm always delighted by their diversity. Everything that they bring in to the recording enriches me spiritually. I'm amazed of the immensity of beauty and truth on the crossroads of cultures and human sensibility. Music is the language of unity" – says AMJ. "Working on those old tangos was pure magic. Rarely can you come across the material of such charm, intense melancholy, mystery and eroticism. Recording with Gonzalo was sheer mysticism. The presence of 'being' in every note teaches you to be carefully attentive and humble.'
'Minione' is arranged and produced by Gonzalo Rubalcaba. The highest audiophile sound quality of the recording is the merit of the Grammy Awards winner Carlos Alvarez, made in The Hit Factory Criteria Miam, legendary studio in Florida.
Photos and the clip for the project were made by Robert Roy Nałęcz during the recording sessions in Miami studios, as well as in Warsaw, Cosmopolitan apartments.
Anna Maria Jopek – Voice
Gonzalo Rubalcaba – Piano
Armando Gola – Bass
Ernesto Simpson – Drums
CD:
1. Twe usta kłamią 5:58
2. Kogo nasza miłość obchodzi 4:14
3. Co nam zostało z tych lat 5:11
4. Nie wierzę Ci 5:02
5. Beseme mucho 4:23
6. Co nam zostało… WYBRZMIENIE 1:29
7. Pokoik na Hożej 6:42
8. To ostatnia niedziela 4:15
9. Miasteczko Bełz 4:36
10. Nie wierzę… DETAL 0:28
11. Rebeka 6:01
LP:
Side A
1. Twe usta kłamią
2. Kogo nasza miłość obchodzi
3. Co nam zostało z tamtych lat
4. Nie wierzę Ci

Side B
1. Pokoik na Hożej
2. To ostatnia niedziela
3. Miasteczko Bełz
4. Rebeka
All arrangements and music production: Gonzalo Rubalcaba
Mix & Recording Engineer: Carlos Alvares Mastering: Allan Tucker
Editing Engineer: Mario Garcia Haya – EME Producciones
Assistant Engineer: Femio Hernandez by Criteria Studio
Ten blask: Gary Galimidi
Recorded at The Hit Factory Criteria Miami 22nd-24th August and 20th-22nd December 2016
Rehearsal Sessions at Big Wall Studio, Miami Florida
Assistant: Simon Peuela
Mastered at TuckerSound/Foothill Digital, New York

Gonzalo Rubalcaba is exclusive artist of 5Passion and played with Bosendorfer Concert Grand 280 VC Vienna Concert
Armando Gola is exclusive artist of 5Passion and played with Dr.Strings and MarkBASS AMPS
Ernesto Simpson is exclusive artist of Remo, LP – Vickfirth and Yamaha Drums

A&R: Jarosław Szlagowski, Anna Pyzińska/Universal Music
Project Manager: Ewa Piętka/Universal Music
Project Coordinator in Miami: Maria Gonzalez
Legal Advisor: Agata Bajno
Design: Kasia Mrożewska
Photo & Video: Robert Roy Nałęcz
Translators: Katarzyna Kasperek, Agnieszka Zimnicka