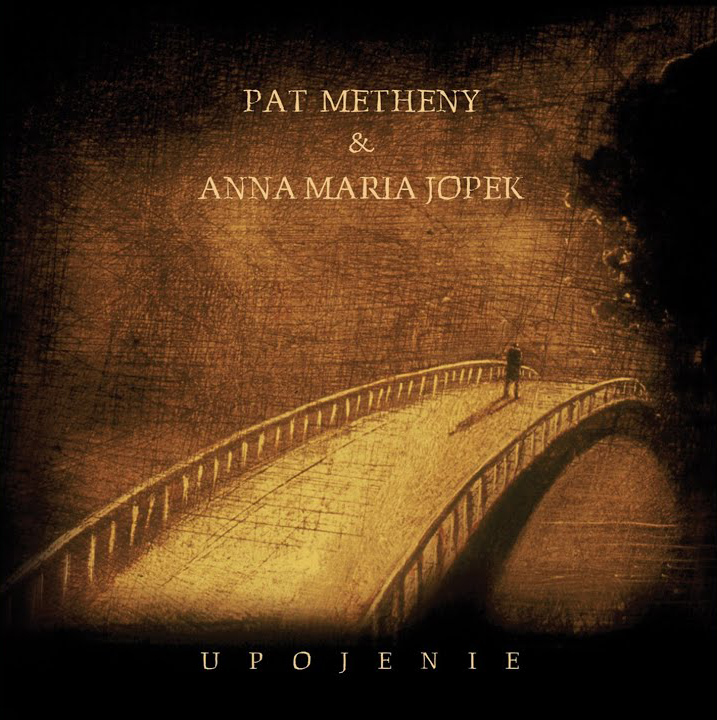 Pat Metheny & Anna Maria Jopek
2008 Nonesuch (international edition)
Why me? Everything I've experienced so far proved to be insufficient. The knowledge the work, the talent I possibly have – they are all of such a small size compared to Pat's genius. This album is the bravest of my dreams coming true. Sung in Polish. The message, I believe, reaches beyond the language boundaries.

I hope that our passion, determination and love can still be sensed, or felt. Let me pray it can be a message of peace in this turbulent world. It is agreat place to live, though. Otherwise Pat would have chosen some other world, some other time, to bless it with the gift of his music.
Anna Maria Jopek

Poland is a special place, a place filled with some of the soulful and unique people and musicians anywhere. The relationship that I have enjoyed with the audiences and players there over the years has been a wonderful and unique enrichment to my live, musically and personally. 

While performing at a jazz Festival in Europe in the summer of 2001 I was approached by an exceptional young Polish musician, singer Anna Maria Jopek. Her dream was to collaborate on a project together, blending out sounds with all-star cast of the best Polish players playing some of my tunes, some Polish folk melodies and some of her own compositions. Her dedication and sincerity were compelling and as I became familiar with her music over the next few months, I was impressed with everything  about her music and her singing.

It was a real pleasure to collaborate with Anna, Marcin and all the fantastic musicians represented here. Their vision of how to interpret my tunes often inspired me to look at them in a totally different way myself. The recording sessions were stimulating and focused as  Anna and I and the other musicians discovered the many different ways that we could play together. This was music making at its most fun and collaborative. We hope you will enjoy this music as much as we enjoyed making it together" 
Pat Metheny
Track list:
1. Cichy zapada zmrok (Here Comes The Silent Dusk) 
(traditional)
2. Mania mienia (So May It Secretly Begin)
(mus. Pat Metheny, lyr. Andrzej Poniedzielski)
3. Biel (Whiteness) 
(mus. / lyr. Marcin Kydryński)
4. Przypływ, odpływ, oddech czasu… (Tell Her You Saw Me)
(mus. Pat Metheny / lyr. Magda Czapińska)
5. Are you going with me? 
(mus. Pat Metheny, Lyle Mays)
6. Czarne słowa (Black Words) 
(mus. / lyr. Anna Maria Jopek)
7. Lulajże Jezuniu (Polish Christmas Carol)*
(traditional)
8. Upojenie (Ecstasy) 
(mus. Anna Maria Jopek / lyr. Stanisław Grochowiak)
9. Zupełnie inna ja (Always And Forever)
(mus Pat Metheny / lyr. Marcin Kydryński)
10. Piosenka dla Stasia (A Song For Stas) 
(mus. / lyr. Marcin Kydryński)
11. Letter from home 
(mus. Pat Metheny)
12. Me jedyne niebo (Another Life)
(mus. Pat Metheny / lyr. Marcin Kydryński)
13. By on był tu (Farmer's Trust) 
(mus. Pat Metheny / lyr. Andrzej Poniedzielski)
14. Polskie drogi (Polish Paths) 
(mus. Andrzej Kurylewicz)
15. Tam, gdzie nie sięga wzrok (Follow Me)
(mus. Pat Metheny, Lyle Mays / lyr. Magda Czapińska)
16. Na całej połaci śnieg (The Snow Falls All Over The Place)* 
(mus. Jerzy Wasowski / lyr. Jeremi Przybora)
17. Szepty i łzy (Whispers And Tears)*
(mus. Wojciech Kilar, lyr. Marcin Kydryński)
* bonus track
Anna Maria Jopek – voice, background vocals, Fender Rhodes
Pat Metheny – electric, acoustic, classical, baritone and soprano guitars, guitar synthesiser, 43-string Pikasso guitar, keyboards
Leszek Możdżer – piano
Paweł Bzik Zarecki – keyboards, main programming, loops
Darek Olaszkiewicz – acoustic bass
Marcin Pospieszalski – bass guitar, programming, loops
Cezary Konrad – drums
Mino Cinelu – percussion
Henryk Miśkiewicz – soprano saxophone
Mateusz Pospieszalski – programming, loops
Marek Pospieszalski – turntables
Wojciech Kowalewski – percussion
Piotr Nazaruk – flutes, hammered dulcimer, percussion, voice
Bernard Maseli – vibes
Marek Napiórkowski – 2nd gituar on "Upojenie"
Barney – 'Alien Voices'

Violins: Krzysztof Bzowka – concertmaster, Józef Kolinek – contractor, Parycja Jopek, Katarzyna Gilewska-Zagrodzińska, Artur Gadzala, Robert Dąbrowski, Violas: Włodzimierz Żurawski, Dariusz Kisieliński, Cellos: Jerzy Muranty, Janusz Olechowski

Acoustic guitars made by Linda Mazner, Toronto, Canada. Electric guitar by Ibenez.

Produced by Marcin Kydrynski & Pat Metheny
Co-produced by: Anna Maria Jopek & Paweł Bzim Zarecki
Sequenced by Matt Pierson
Executive producer, A&R: Jacek Żurawski

Recorded: July-October 2002 at S4 and Pueblo People Studios, Warsaw, Poland
Piano recorded at S1 Concert Hall, Warsaw
Guitar technicians and assistant to Pat Metheny: Carolyn Chrzan
Piano tuner and technician: Robert Gniadek

Recorded by: Tadeusz Mieczkowski
Main additional recordings at Pueblo People Studios: Paweł Bzi, Zarecki
Additional recordings: Mateusz Pospieszalski and Marcin Pospieszalski
Digital transfer & MP3: Marcin Knoblach (Izabelin Studio)
Studio manager at S4 and S1: Ewa Dłużniewska

Mixed and mastered by Tadeusz Mieczkowski, S4
Tam Gdzie Nie Sięga Wzrok, Me Jedyne Niebo and Are You Going With Me? mixed by Andrzej Karp, Izabelin Studio. Assistant engineer: Piotr Laskowski

Artwork: Piotr Dumala
Anna Maria Jopek with Friends & Pat Metheny
2002 Warner Music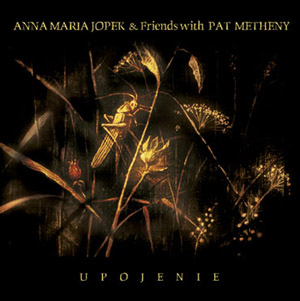 1. Cichy Zapada Zmrok
2. Przypływ, Odpływ, Oddech Czasu
3. Tam, Gdzie Nie Sięga Wzrok
4. Biel
5. Czarne Słowa
6. Letter From Home
7. Are You Going With Me?
8. Zupełnie Inna Ja
9. Mania Mienia
10. By On Był Tu
11. Upojenie
12. Piosenka Dla Stasia
13. Me Jedyne Niebo
14. Polskie Drogi